Available Products: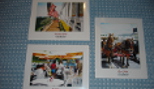 Giclée Prints
Limited Edition Giclée Prints are available in various sizes, dependent on the image. Series sizes are 100 on most images. A few images are in series of 250. Limited edition prints cost is $250 for images up to 15 x 20. Cost for Limited Edition larger sizes (approx size is 20 x 28) is $400. "Artist Proofs" are available for some images at $350. Only 3 Artist proofs are available per image and are 15 x 20. All Limited Edition Giclée Prints are numbered and have original signature.
Open Stock Giclée Prints
Open stock prints are available in standard frame sizes of 16 x 20 and 11 x 14. These prints are presented with a mat, as pictured here. Cost for 16 x 20 is $100. Cost for 11 x 14 is $65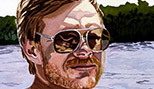 Original Paintings
Mexican Man - Watercolor
Jim Bowie Relay Station - Watercolor
Number 7 - Watercolor
Cows - Watercolor
Grand Traverse Lighthouse - Watercolor
Safe Harbor - Watercolor
Safe Harbor II - Watercolor
Point Iroquois Lighthouse - Watercolor
Market in Tunisia - Oil on Board
Fishtown - Watercolor
New Orleans Jam - Watercolor
Lake Michigan Beach - Watercolor
Lake Superior Beach - Watercolor
The Beach - Watercolor
White River Light Station - Watercolor
Venice - Watercolor
The Butterfly - Watercolor
Rosie's Diner - Watercolor
Lansing Diner - Watercolor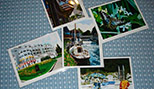 Notecards
Notecards are produced using the Giclée process on 220 gsm Enhanced Matte Presentation paper and include matching Envelope. Notecards are 5.5" x 7.375" (#9 Large) and are individually packaged. Cost is $6.00 ea. and sold in bundles of 5.